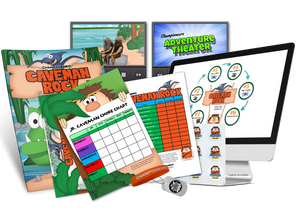 Caveman Rock - ESE Classroom Adventures Unit 1
Sale price Price $ 99.00 Regular price $ 497.00 Unit price / per

Championeers! Emotional Safety Education System 

Caveman Rock Classroom Adventures!
Theme: Identity & Truthfulness
Critical Youth Issue: Peer Pressure
Championeers! is the ultimate classroom management system. You'll develop a classroom culture based on seven essential elements required for emotional safety. Watch your class transform before your eyes as they learn to trust, belonging, leadership, empathy, vision, and unity through this dynamic ESE unit.
Choose between K-1st and 2-5th grades. 
Caveman Rock Teacher Pack

Teacher Digital Pack
Teacher's guide with weekly lesson plans delivered to your inbox.
Click-Class subscription
Championeers! Adventure Theater
Championeers! Character Lessons

​Online Templates
One Student Pack
Level I ESE Certification upon completion (Opt. PD credit available)
BONUS: ESE Bootcamp: Peer Power - Digital Course (optional PD credits)
It is strongly suggested that each student have their own Student Leadership Pack. 
Prices listed reflect the ESE Grant discount.
* Not all items listed in the photo are included in the Classroom Edition.
** If teachers in other grade levels are using Caveman Rock consider presenting the school-wide system to your administrator. There are five different themed ESE units for school-wide implementation.