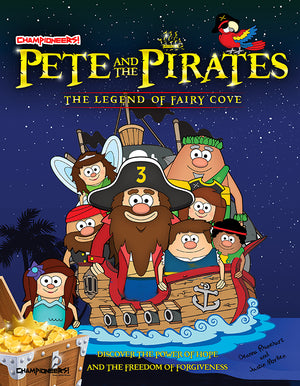 Pete and the Pirates - ESE Music Adventures Unit 2
Sale price Price $ 99.00 Regular price $ 2,497.00 Unit price / per
 Emotional Safety Education Unit Two Subscription
Theme: Hope and Forgiveness
Critical Youth Issue: Identity
SYNOPSIS
One stormy night a shipwreck took place off the shore of Fairy Cove. All the children on board would have been lost to the sea had the mermaids not rescued them. They were brought to shore where fairies and islanders cared for them and taught them the true spirit of Matu'm, the fullness of love. Embark on a journey of discovery as these castaways search for their true identity among cantankerous pirates, island natives, magical fairies and beautiful mermaids. You'll be laughing at one moment and moved to tears the next as these unlikely allies discover the power of hope and the freedom of forgiveness.
PRODUCTION PACK INCLUDES:
Unit Binder

One-year Master License
Performance/sing-along CD

Teacher's guide with 12 done-for-you lesson plans

1 student leadership magazine

Event guide and planner

Click-Class subscription with Championeers! Adventure Theater's video character lessons

Click-Class Choreography Coach, Lyrics and Fidget Busters

Online Templates

Teacher Training Course

School-wide campus culture development activities (opt)

ESE Certification level 2
So much fun every single week! We've done the heavy lifting for you with point and click interactive video adventures. Available in classroom, school-wide, and integrated music systems with coordinating home editions.
This is a monthly subscription with the first semester dedicated to professional and corporate culture development and the second semester to classroom implementation and school-wide campus culture development.
 * NOTE: Optional student packs highly encouraged for maximum benefits.
PERFORMANCE LICENSE INCLUDES:
Grand Rights Performance

Ticket Sales for self-funding option

Note: License is for 12 months
 
TRAINING INCLUDES:
Online ESE Training Course
 
*  All school productions require a signed license agreement that will be sent to you upon your order. You may preview this agreement in advance under "Terms and Conditions." 
 * Renewal Licenses are required for repeat performances and are available only to schools who have already purchased the initial production pack. They include online resources, training, and performance contracts.